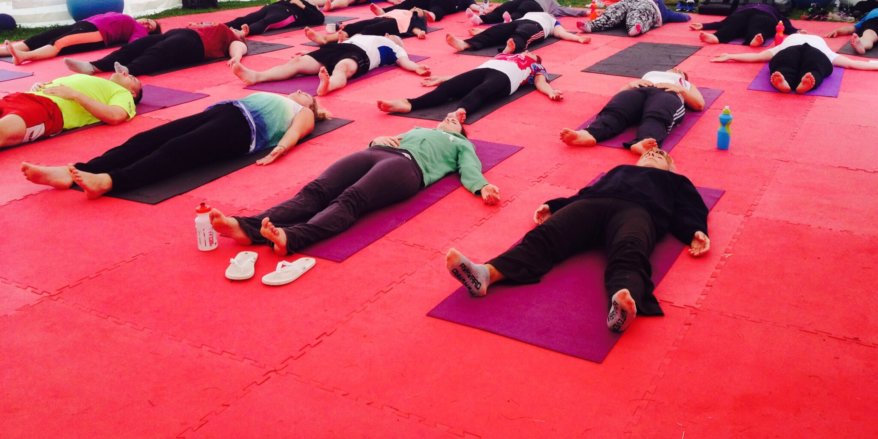 Guided Relaxation
All Yoga 7 classes are for 90 minutes duration because it is traditional yoga being taught. This means equal amount of importance is placed on the physical aspects as well as the psychological, physiological, biological and spiritual needs of the student. You can access this guided relaxation anytime you wish for free. Just give yourself 20 minutes a day and try to build this into your daily routine to really notice the benefits and reconnect with yourself. Perhaps try using it in bed to help assist your nights sleep. Or use it should you find yourself waking in the middle of the night.
The term Yoga Nidra is derived from two Sanskrit words, yoga meaning union or one-pointed awareness, and Nidra which means sleep. During the practice of Yoga Nidra, students appear to be asleep, but the consciousness is functioning at a deeper level of awareness. In Yoga Nidra practice students lie down so the auto suggestion guidance helps students move into a semi-hypnotic state, somewhere between being awake and being asleep.
Why Yoga Nidra?
Yoga Nidra improves students heart rate variability bringing balance to the autonomic nervous system, whether or not it is preceded by a session of yoga asanas or not. A regular practice of yoga relaxation has been found to reduce tension and anxiety. The autonomic symptoms of high anxiety such as headache, giddiness, chest pain, palpitations, sweating and abdominal pain respond well to regular Yoga Nidra. A 2019 study suggests that yoga Nidra can alleviate stress and improve self-esteem of university students.
If you have difficulty switching off and relaxing then listening regularly to this guided relaxation is going to offer enormous benefit to your life. Even when we relax we are using energy with our thoughts and enormous amounts of energy is wasted on unnecessary muscular tension.
The Science behind Yoga Nidra
To get technical for a moment, the science behind Yoga Nidra meditation is associated with increased endogenous dopamine release in the ventral striatum of the brain. The reduced desire for action in the state is associated with the reduced flow of blood in parts of the brain connected with controlling actions, the prefrontal cortex, the cerebellum and the sub cortex. After practising the asana the physical movements in yoga or postures, to help release any potential blockages, it is important to rest to allow energy in the body to relax and flow freely. Lactic acid is removed from the muscles during relaxation so the body can rest. Practising Yoga Nidra after any sport is a superb way of alleviating discomfort and pain induced by exerting the muscles.
What is Savasana?
The body should be straight making sure that the head is not twisted to one side. The back is flat on the ground. Legs are straight but not tense and feet are at least half a meter apart. Arms are at a 45 degree angle from the body with the palms facing upwards. Eyes are closed and the mind focused on the breath. Don't allow the mind to wander and when it does focus again on the breath and the repetition of the instruction given in the audio (if you are pregnant lie on your side and use cushions or blankets to aid comfort, similarly if you are uncomfortable lying on your back lie on your side in a comfortable position).
Try not to do or to be anything or anywhere other than being fully present in that moment as the audio runs. Feeling the ground beneath you as you ground into your experience, subconsciously you will begin to let go of any tension. Using the power of the subtle mind to help in this process of relaxing any tightened muscles. The autosuggestion passes through the muscles all the way from our toes to our head. Then, slowly, messages are sent to the kidneys, liver and the other internal organs including our brain.
When listening to the relaxation please make sure you are comfortable in Savasana, the corpse pose and concentrate on deep abdominal breathing. Try to stay as still as is possible throughout the 20 minute audio and turn off your phone and any other distractions. It is important to repeat the words silently to yourself to enable the power of autosuggestion, so, you are telling your unconscious mind to relax.
Going Beyond the Physical
However much we may try to relax the mind, all tensions and worries cannot be completely removed until we reach spiritual relaxation. As long as we unconsciously choose to identify with the body and mind, we will have worries, sorrows, anxieties, fear, and anger. These emotions, in turn, will continue to bring us tension. Yogis know that unless a person can withdraw from the body-mind idea and separate herself (or himself) from the ego-consciousness, there is no way of obtaining complete relaxation. Instead the Yogi identifies with the all-pervading, all-powerful, all-peaceful and joyful Self, or pure consciousness within. The Yogi knows that the source of all power, knowledge, peace and strength is in the Self, and not solely in the body. We gradually tune into this by training our thoughts to subconsciously assert our true nature, that is: "I am that pure consciousness or Self". With this identification with the Self, we complete the process of Yogic relaxation.
When experiencing mental tension, it is advisable for us to breathe slowly and rhythmically for a few minutes. Soon the mind will become calm. You may experience a kind of floating sensation. You may also experience what may be described as an out of body experience which feels like you spirit has departed temporarily and is astral planing. If you have a personal mantra or prayer, gently begin repeating it to yourself. Otherwise using "om" as you visualise the light rising within. Mantra and breath work are a fundamental component of mental relaxation.
Now enjoy, relax and share with your friends and family!