International Day Of Yoga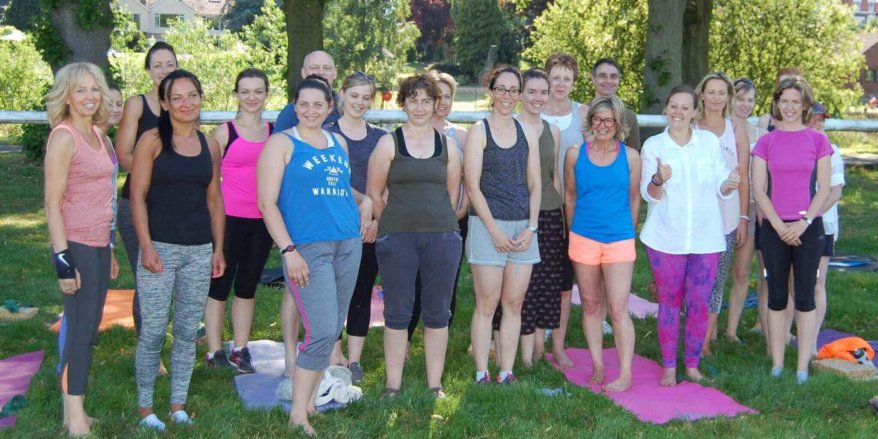 On Wednesday 21st June 2017 we will be celebrating the 3rd International Day of Yoga. Yoga 7 in Worcester marked the occasion a few days early by offering a free Yoga Class to anyone and everyone in Worcester. It was a boiling hot day and we are so grateful for a turnout of 21 people, who shaded by the trees on the Racecourse in Worcester participated in 90 minutes of what can only be described as 'Hot Yoga'.
To make the day extra special donations were made to raise money for Worcester Royals Oncology Unit and we have so far raised £200! Some people didn't even attend the Yoga Class and still donated –so we are so grateful. Yoga 7 in Worcester has been offering Yoga to cancer patients since it started in 2012. The benefits of a Yoga Class  are everlasting. One lady came to the class on Saturday who hadn't experienced Yoga before and this is what she said "
"I'm a yoga virgin but yesterday on a beautiful day I tried it out at Yoga 7's free class to raise funds for the breast cancer unit at Worcester Oncology Centre. I was not very good at some of the postures but I found the breathing fantastic. I slept like a baby for the first time in ages."
These kind of positive comments are repeated by many students who can experience Yoga's positive benefits almost straightaway. For others such benefits experienced can take a little longer. With a weekly Yoga Class after a period of 3 months you will feel the benefits that Yoga can provide. Whether it be more flexibility and strength, relaxation and improved sleep or an all over more positive attitude to life, Yoga is the way to go. Learn more about our yoga classes!
Yoga in the Sun